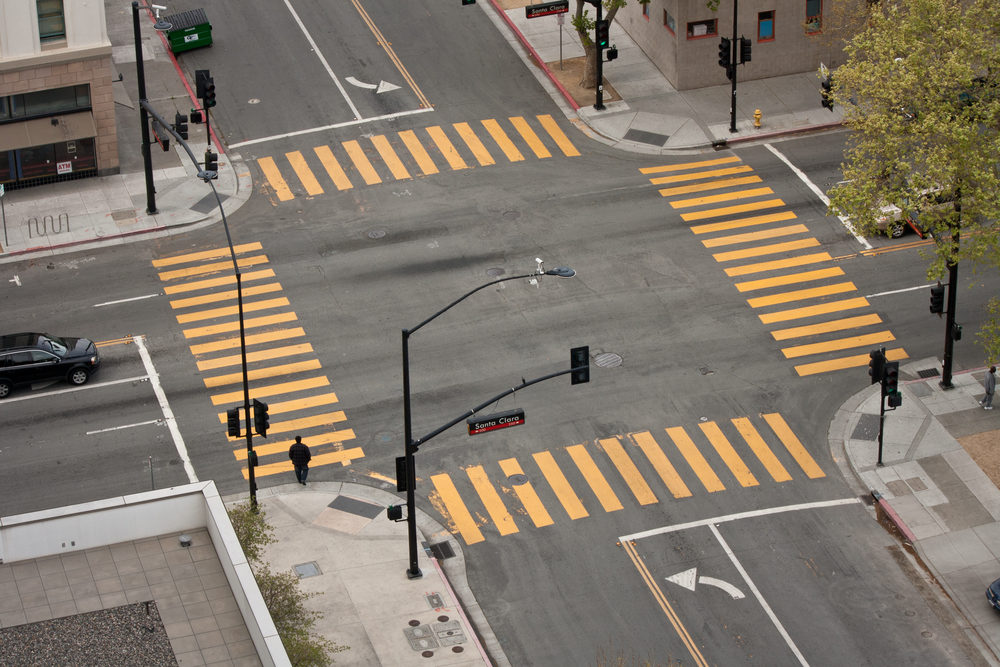 In a perfect world, drivers and pedestrians share the road in a respectful manner. Unfortunately, this isn't always the case and far too many pedestrians are injured because vehicle drivers fail to take the precautions necessary to avoid these accidents. This fact was recently confirmed in a recent study.
The study was conducted by researchers at the University of Toronto Engineering who studied the eye movement of drivers who entered busy intersections. The study team found that more than half of the participants failed to make the necessary eye scans, looking for pedestrians and/or cyclists when the driver was going to make a right-hand turn.
Participants of the study ranged in age from 35 to 54 and had been driving for more than three years. All 19 participants had good driving records and were considered low risk for being involved in vehicle crashes. Researchers used eye-tracking equipment in order to access where participants were looking when they were turning at an intersection. Each participant was required to make right turns at several locations in downtown Toronto, including a signalized four-way intersection and an uncontrolled T-intersection that led to a smaller street. These turns also required participants to turn right across a dedicated cycling lane.
The findings showed that the majority of participants failed to look at areas where there could be pedestrians or cyclists before they proceeded to make their turn. There were certain factors that did make it difficult for participants to scan the area properly for pedestrians and cyclists, such as inconsistent use of bike lanes and issues with visibility. Many of the participants were also easily distracted by all the activity at the busy intersections, like obeying all the traffic signs and signals, watching for other vehicles and traffic.
Results of the study included:
More than half of the participants failed to scan the area where people could be before the turned their vehicle.
These participants also failed to frequently look over their shoulders before turning to look out for cyclists.
When a participant was more familiar with the area, the less cautious they were at the intersections. The less familiar they were, the more cautious they are.
The results of the study are not only a reminder for drivers to properly look in all areas for pedestrians while approaching intersections and taking right turns, but it is also a critical reminder for pedestrians to be aware of their surroundings, as we, since the results reveal that many drivers are not properly scanning before they turn and may not see them.
Proving Fault in a Pedestrian Accident
One of the key elements of a pedestrian accident case is proving who was at fault. There is no comparative negligence under Virginia's injury statutes. This means that the victim can only collect damages if the other party was 100 percent at fault for the accident. In the majority of pedestrian accidents, the vehicle driver violated one or more traffic violations. This often includes ignoring crosswalks, traffic signals, signs, intersections, and right of way laws. Another common factor in pedestrian accidents is alcohol and/or drug use on the part of the driver. According to national data, almost half of all fatal pedestrian accidents are alcohol-related.
Your personal injury attorney will investigate all the evidence in your case to determine why the accident occurred and who was at fault.
Contact a Virginia Personal Injury Attorney
If you or a loved one has been injured in a pedestrian accident, you have may be able to pursue compensation that will address your medical bills, lost income, and pain and suffering, and more.
The Virginia pedestrian accident attorneys at Shapiro, Appleton & Washburn have been advocating for victims and their families for more than 30 years, using all available resources to successfully obtain the best possible outcome under the circumstances of the case. Our attorneys have built solid reputations as skilled negotiators who will not hesitate to pursue litigation if the insurance company fails to negotiate in good faith. Call our office today at 800-752-0042 for a free case evaluation and to find out how our legal team can help get you the financial compensation you deserve.
RELATED CONTENT