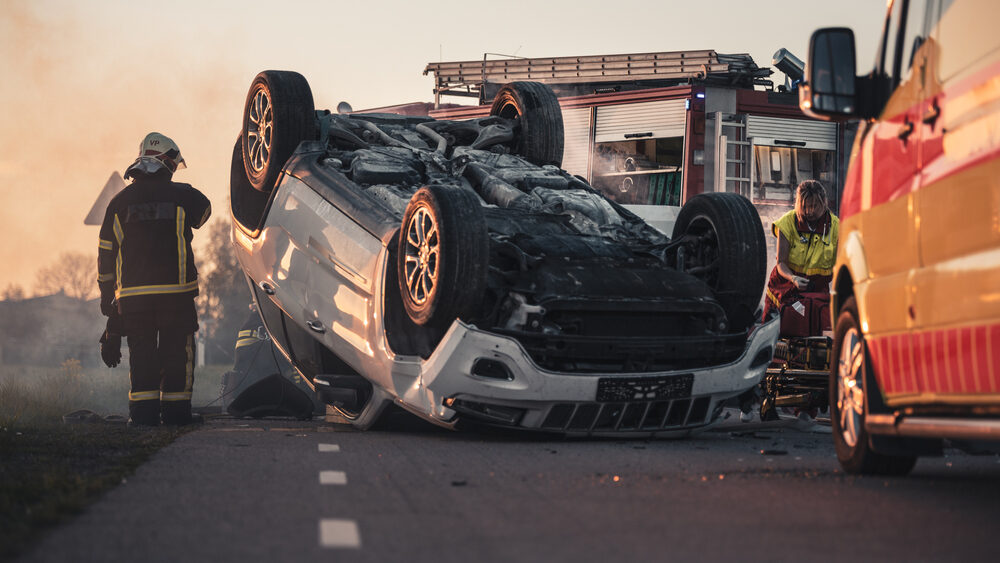 Car accidents can result in a wide range of injuries, some of which can be catastrophic, significantly limiting a person's mobility. These injuries can have a lasting impact on an individual's ability to perform daily activities and enjoy a normal quality of life.
The following are some of the most serious car crash injuries that the Virginia personal injury lawyers at Shapiro, Washburn & Sharp have successfully litigated. If you or a loved one has been injured, call our firm for legal assistance.
Spinal Cord Injuries
Spinal cord injuries are among the most severe and life-altering injuries resulting from car accidents. A severe impact can damage the spinal cord, leading to paralysis or loss of sensation in various parts of the body. Depending on the location and extent of the injury, it can result in paraplegia (paralysis from the waist down) or quadriplegia (paralysis from the neck down). Spinal cord injuries often require significant medical treatment and long-term rehabilitation to regain any level of mobility.
Traumatic Brain Injuries (TBIs)
Car accidents can cause traumatic brain injuries, which range from mild concussions to severe, life-threatening conditions. Brain injuries can impair cognitive function, motor skills, and coordination, resulting in mobility limitations. Some individuals may require extensive physical therapy and rehabilitation to regain mobility and relearn basic motor skills.
Limb Amputations
Severe collisions can lead to limb amputations, causing a permanent loss of mobility. The loss of an arm or leg can significantly impact an individual's ability to perform daily activities, leading to a need for prosthetics, assistive devices, and specialized therapy to restore mobility and independence.
Internal Organ Injuries
Car accidents can cause internal injuries, including damage to organs like the liver, spleen, or kidneys. Internal injuries may require surgery and a long recovery period, limiting mobility during the healing process.
Fractures and Broken Bones
Fractures and broken bones are also common car accident injuries that can affect the mobility of the injured person, depending on the severity and location of the fracture. Fractures in weight-bearing bones, such as the legs or pelvis, can require surgeries, immobilization, and physical therapy, leading to a temporary or even permanent limitation in mobility.
Joint Injuries
The impact of a crash can cause damage to joints, such as the shoulders, knees, or hips. Injuries like dislocations, torn ligaments (such as ACL or MCL tears), or damage to the cartilage can result in pain, instability, and limited range of motion. Joint injuries may require surgical intervention, followed by extensive rehabilitation to restore mobility and function.
Soft Tissue Injuries
Injuries to soft tissues, such as sprains, strains, and deep bruises can also have an impact. While these injuries may not be as severe as fractures or spinal cord injuries, they can still cause significant pain and limit mobility. Soft tissue injuries can affect muscles, tendons, and ligaments, leading to difficulties in movement and everyday activities.
Contact a Virginia Personal Injury Law Firm
If you or a loved one has suffered a serious injury as a result of another party's negligent or reckless actions, contact a Norfolk car accident attorney from Shapiro, Washburn & Sharp. Our firm has aggressively advocated for victims and their families for more than three decades and will fight to get you the compensation you deserve.
It is critical to remember that Virginia has placed a statute of limitation on how long victims have to file a claim for damages against those responsible for their injuries, so do not delay. Failure to file before that legal deadline could mean you lose any chance of ever filing your claim or getting financial justice against the party responsible for your or your loved one's injuries.
Contact our office today to set up a free and confidential case evaluation with one of our dedicated Virginia accident attorneys.
RELATED CONTENT
For over twenty years, Mr. Sharp's law practice has focused on serious personal injury claims, including traumatic brain injury and spinal cord injury claims. He also handles nursing home neglect cases and medical malpractice claims. Mr. Sharp has counseled numerous clients about the complexities concerning litigation of both pediatric and adult brain injury.